WHICH IS THE BEST ACCESSIBLE SHOWER FOR YOUR BATHROOM REMODEL?
Many clients are overwhelmed wondering what they should use for their bathroom remodel. You are NOT limited to what you find in box stores. Accessible Solutions is interested in helping our clients make smart, solid investments in what we have found to be the BEST shower on the market in our over 30 years in business, and we can get them for you at DEALER cost as Authorized Dealers for Bestbath products.
SOLID WOOD BACKING MAKE BESTBATH® SHOWERS STRONG AND DURABLE
Not all showers are created equal. In fact, It's what you can't see inside our Bestbath showers that makes them the BEST choice for your bathroom remodel. Take a peak at the construction. Bestbath shower walls, whether for low curb showers or barrier free showers, all have an integrated wood backing to provide strength, durability, and unlimited grab bar and accessory placement at any time – they go the distance.
SUPERB CONSTRUCTION: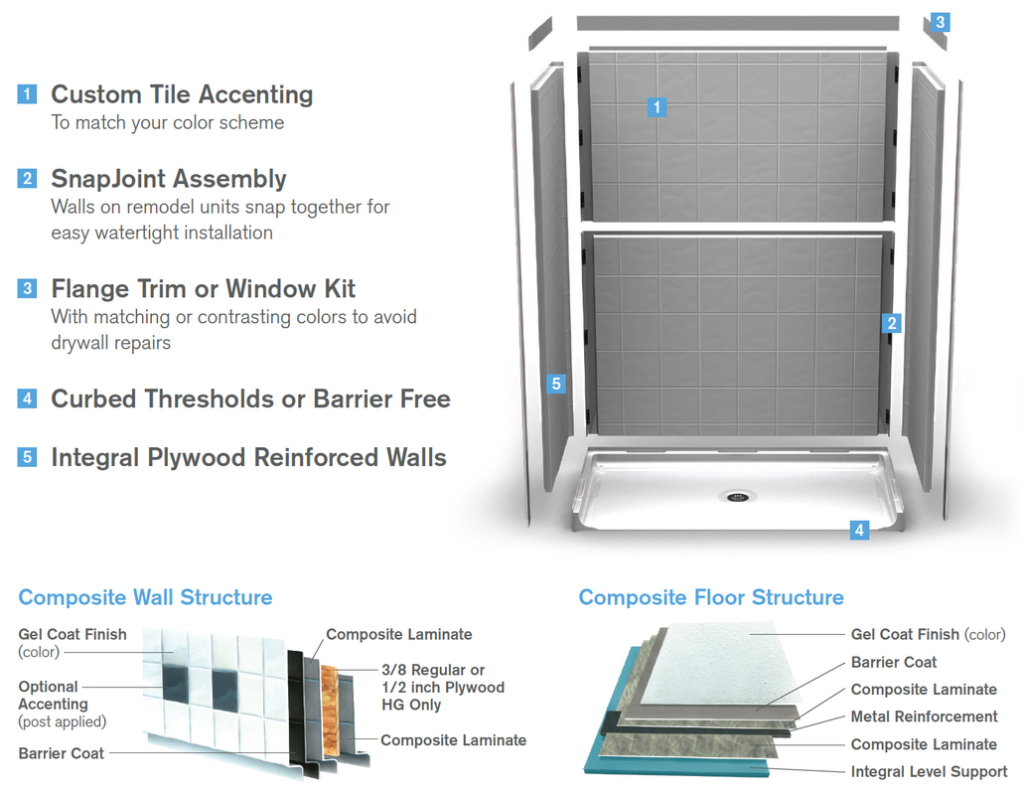 Most showers on the market are made of acrylic with maybe a thin single fiberglass coat. If you were to knock on it or push on it, you will see that is thin and you can feel it move . It lacks the strength you want for a long term investment in your home. Then try knocking on a Bestbath shower – solid! What does that indicate? Our Bestbath showers, whether low curb or barrier free, whether one piece for new construction or multipiece for remodels, whether for commercial applications or residential – are ALL constructed with a layer of wood backing between two layers of fiberglass reinforced resin, with a gelcoat finish to ensure your shower can easily keep its finish and luster , plus make it very easy to clean! That's the Bestbath difference.
WHY IS THIS SOLID WOOD CORE SO IMPORTANT?
YOU CAN INSTALL SAFETY BARS, GRAB BARS, ANY ACCESSORY, ANY TIME, ANYWHERE YOU WANT THEM.
This means you NEVER have to worry about the cost or labor for making sure there is blocking in the right areas now or in the future for grab bars or any other accessories. All Bestbath shower walls are fully reinforced to accommodate any grab bar or accessory at any time. You don't have to worry about putting in extra blocking or moisture resistant sheetrock or durorock. Because of Bestbath's construction, these walls go right back to the studs in most cases.
Those who have purchased less expensive showers have found they don't have this solid wood core which means problems when you are trying to install a grab bar or accessory later on. That is what makes these LIFETIME SHOWERS. They can easily adapt to your needs in the future without having to worry about blocking or punching a hole in the wall behind the shower to try to install blocking and then patch it up. Once you invest in a BESTBATH shower, you can rest easy knowing your shower can go the distance – with a 30 YEAR WARRANTY and the ability to install grab bars at any time down the road.
What if you don't need a barrier free shower right now but want to do your bathroom over? Why not install a Barrier Free Shower now with their patented semi permanent threshold. This silicones in place right over their patented waterstopper to make it look like a traditional curbed shower. If you need a barrier free shower as the years pass, just cut the silicone, remove the adapter, and you have a barrier free shower. Bestbath showers are the last shower you will ever need to purchase.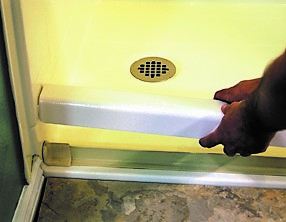 Conversely, if you need a wheelchair accessible shower now, but you are worried about future resale value: Simply install this special adapter and it looks like a curbed shower – with hidden capability to adapt to any future needs of the new homeowner. Take a look at this beautiful Bestbath shower- upgraded with a recessing channel where deco glass is installed – grab bars that don't look like grab bars such as an accent ring around the mixing valve, as well as corner shelves – all which support over 400 pounds – as well as the semi perm threshold adapter in place over the water stopper – Solid construction, Durability. Beauty . Bestbath is the BEST choice, the last shower you will ever need.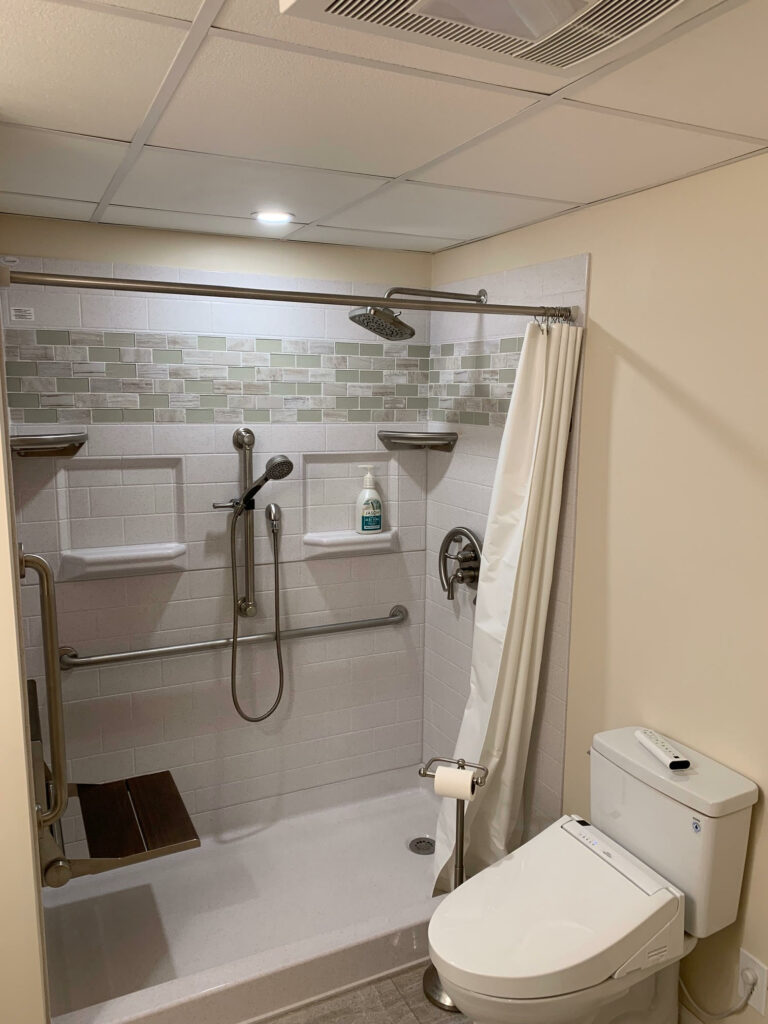 IN CONCLUSION – WHEN YOU WANT THE BEST – CHOOSE BESTBATH.
We at Accessible Showers have been caring for our clients for over 30 years and we know that a new shower or tub is a large investment for our customers. We want to bring you the best, and we know that is what you will get with Bestbath. We know our products will exceed your expectations today and for years to come.
Call today and let us show you the BESTBATH difference.
#Bestbath
#accessible showers
#accessible solutions
#bathroom remodels