Home Accessibility Design Concepts, Products, and Remodeling Services
About Accessible Solutions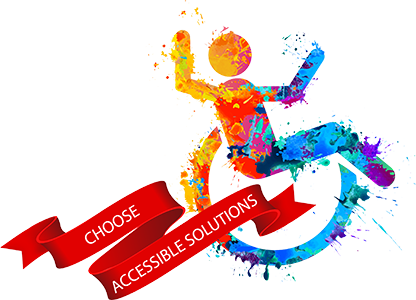 Accessible Solutions by Wood Wise Construction Inc. is a family-owned, CAPS Certified (Certified Aging in Place Specialist) business with over 37 years of construction experience. We have specialized in making the homes of our clients safer and more accessible since 1994 and have the knowledge and experience you need to "Make Your Home Accessible".
More About Us
We can take you from design to finish with all the necessary trades to help you make your home a safer and more comfortable living environment. This can both improve the quality of your life and increase the resale value of your home! For you "DIYers", we can provide design services and specialty accessibility products to help you complete your task.
We're so confident in the quality of our partners' products, we offer to sell their products direct. Learn more about our our Contractor Discount Program.
Learn More
Best Bath
Accessible Showers
Health Craft
Specialty Grab Bars
Beautiful Ramp and Bathroom
"Thank you so much for the beautiful ramp and bathroom you put in for us. They are fantastic. Your service is top notch and your workers were all great to deal with and their work was excellent! Life is so much easier now. Words cannot express our gratitude…"
Got Home From The Hospital, and…
"I got home about 9:00 from the hospital last night and was simple awestruck by the ramp. It is really very nice. It's beyond nice. It looks great. We are so happy with the quality of the workmanship. Thank you for your good work!"
"We just wanted to take the time to say "thank you for a job well done!" It was such a smooth transition for us and we are so happy with every aspect of the job. Right from our first meeting to the final inspection. You make a great team and we look forward to seeing you again!"
Joe and Lori
Fitchburg, MA
Workmanship Passes with Flying Colors
"Wood Wise Construction/Accessible Solutions is the one that I had remodel my handicap bathroom and my handicap accessible kitchen. They get all of the proper permits and when the town inspects, there are no problems. The workmanship passes with flying colors and everything is top quality and warrantied. They specialize in handicap construction and follow all the rules and regulations that are required by law. It took us some time to find the proper construction company that can take our children's needs into consideration and know exactly what we need. I want this contractor to do all
the work at my home. I know their work and trust their workmanship…"
Terry
Oxford, Massachusetts
Our greatest satisfaction goes beyond a paycheck…
"The bathroom is far beyond my expectations! Every single inch is just perfect. I hope you and Jim truly realize the significant role you play in helping others. Do you realize how helpful this will be in helping me maintain keeping my boys at home? What you do goes beyond construction- I hope you know that…"
Peter
Lancaster, Massachusetts
My grandchildren are excited I can finally sit out in their backyard play area…
Dear Debbie and Jim. I just wanted to send the two of you an enormous THANK YOU for the remarkable renovation work Wood Wise/Accessible Solutions accomplished for us! We can't stop standing outside the new bathroom and staring in with delighted disbelief. We never thought this renovation would ever happen…and certainly not one as remarkable as what you created for us. It is no longer an hour struggle for a ten-minute shower! My wife is thrilled that I no longer find an excuse to avoid taking one. The grab bars all seem to be in just the right places making me feel very secure maneuvering around in there. With the new ramp you've built, my house arrest is over! .I'm looking forward to using the ramp to come and go, but also as an aid for exercising. The ramp turns around over my grandchildren's backyard play area. They are excited that i can finally sit out there and be with them. I could praise your work all day! Jordan and all the workers were wonderful people to work with. I'll miss Jordan a bit he almost seemed like family.
We feel the excitement of waking up in a new home, a new beginning, thank you
thank you thank you for this new start in life.
Don
Medford, Massachusetts
My name is Jerry and I'm a Disabled American Veteran
"Because of my disability I was unable to use my bathroom. Fortunately, Wood Wise Construction's owners Jim and Deb Chesbrough came to my rescue. Deb assisted me from day one with all the paperwork from the Veteran's Administration and boy, there's a lot. She knew the regulations and kept everything constantly on track. Jim and his construction team did a terrific job renovating my bathroom. He was always communicating with me about the design. Jim was always conscious of cleanliness, respecting my wishes and noise level. Together they made my bathroom handicap accessible without making it look like a hospital. Jim and Deb were always professional and very kind to me. They gave me back my independence and are truly angels on Earth."
Interested in Making Your Home More Accessible?
Whether you are dealing with a traumatic life-altering event or are dealing with a progressive condition requiring home modifications, contact us today!