NOT ALL SHOWERS ARE CREATED EQUAL
You've heard the old adages:
"You get what you pay for"
"Make sure to compare Apples to apples"
"Penny Wise – Pound Foolish"
"Hind sight is 20/20"
Why have those expressions been around for decades and yet we still know them well? Because it was true then and is even truer now.
Informed consumers compare and not just Price – but also Quality.
WHAT SHOULD YOU CONSIDER?
Perhaps your tub and shower walls are just old and worn out and you don't know whether to invest in having them reglazed – until you see the price!
You've seen the "band-aid" makeovers that go over existing tubs , but you don't really want to just cover over the problem . So you decide you need to replace it anyway. After all:
How many take the time to soak in a tub today? Unless you want a walk in tub of course.
How many can actually get in/out of a tub easily and safely as they get older? Why risk falls or injuries?
If that is where you are at right now, you may be looking for a new shower but you may be overwhelmed by what is out there.
That fact is that not all showers are equal. In fact, it's what you can't see inside the shower walls that sets our Bestbath showers apart. Their construction and their quality are far above the rest! Their walls are built with fully integrated wood backing to provide strength, durability, and unlimited grab bar and accessory placement at any time, and anywhere within the shower PLUS carry a 30 year Bestbath warranty
TAKE A LOOK AT THE CONSTRUCTION !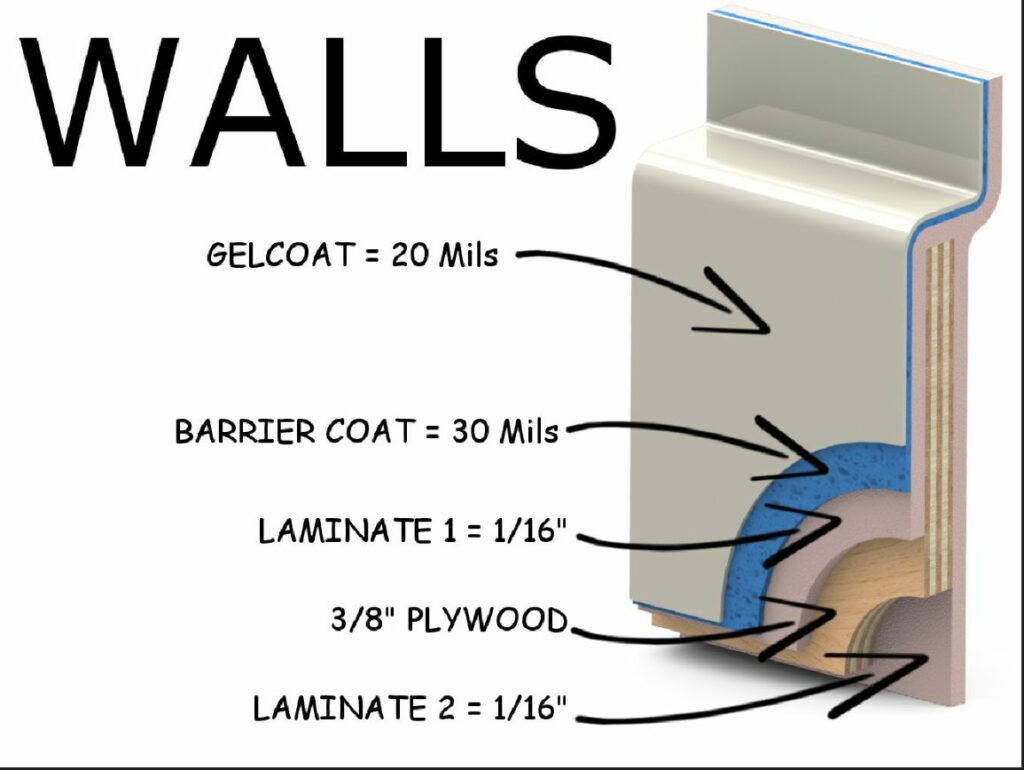 NO NEED TO ADD EXTRA BLOCKING OR WORRY THAT YOU HAVE IT IN THE RIGHT PLACE – BESTBATH® SHOWERS ARE MADE STRONG AND DURABLE WITH AN INTEGRAL WOOD CORE!
Showers sold at most big box stores are typically made of acrylic and maybe a thin fiberglass composite. Because of this, their shower walls are relatively thin and sometimes wobbly. They lack strength and a solid feeling. Not to mention the warranty difference!
OUR SHOWERS: The Bestbath Difference!
Our showers are manufactured with a carefully installed layer of wood backing sandwiched between two layers of fiberglass-reinforced resin. You can feel the difference. Press on the walls of a typical big box shower and it will bend inward. Lots of give. In contrast, press on the wall of a Bestbath shower and it feels solid.
Integral wood backing also means installation is easier and normally less expensive. There's no need for additional material or the labor expense of greenboard or other materials behind the shower including blocking. The 20 gelcoat layer insures your shower will last, and last, and last, and last. No fading, cracking here.
Our showers are installed right on the subfloor and against the studs.
GRAB BARS AND ACCESSORIES – ANYWHERE – ANYTIME
Why does all of this matter?
If you decide to purchase a cheaper shower that doesn't have this wood backing, it can mean trouble for you in the future, especially if you want to add safety features to your shower. Instead of just installing the grab bars or shower sliders where you'd like – like you can with a Bestbath product – you will likely either have to rip out the shower and install additional framing, or punch a hole in your shower, add the backing, and patch things up.
Whether you do it now or later, adding universal design features such as grab bars, seats, and other accessories to Bestbath shower walls with solid wood backing is easy. You can place bars and accessories where you want them directly into wood — without having to compromise by searching for wall studs or small strips of wood (or no wood at all) commonly used by other companies.
Once installed, you can rest assured the grab bars will have the weight-bearing capability you need.
THE BOTTOM LINE
The bottom line? Bestbath's wood backed showers give you strength now as well as flexibility and durability for the future. The fact is, a new shower or tub is a large investment for our customers. That's why Bestbath invests so heavily to ensure they exceed your expectations today and for decades to come.
When only the BEST will do – Choose Bestbath!
CHOOSE ACCESSIBLE SOLUTIONS