Are you a senior? Or are you concerned about the safety of an older loved one? Are you just looking ahead and want to make some modifications now so that you can safely "age in place"?
MAKE NO MISTAKE, making modifications to your home BEFORE you are faced with an accident or life-changing event can not only help you live more independently, but may even help prevent an accident from happening, saving you injury, pain and not to mention expense. That is why we firmly believe that making home modifications BEFORE a crises arises is important for anyone at any age; you are not only better prepared but it may also help you to avoid potential problems from even arising.
Modifying your home does not mean making your home look like a hospital, it means removing barriers! The problem is that too many homes have not been constructed with the effects of aging in mind. That is why working with someone qualified in this area can help you to find the right solutions to fit your needs now and in the future, consider the options, and make an informed decision and create a home that is functional and just beautiful.
We are Accessible Solutions. We provide Solutions for Your Home's Accessibility. We are CAPS certified – which means we are "Certified Aging in Place Specialists". We have been in the field of construction for over 40 years, licensed for well over 35 years, and have specialized in MAKING HOMES ACCESSIBLE since 1994. Once that became our focus, it also became our specialty.
Too many consumers just don't know what options are out there. We can help you find solutions that will help you to transform and enhance your home to suit your needs for YOUR lifetime and improve your quality of life now. The extent of course varies widely based on your needs and the footprint and condition of your home.
Some of our clients benefit from:
* low curb or barrier free, accessible showers which are adaptable as your needs change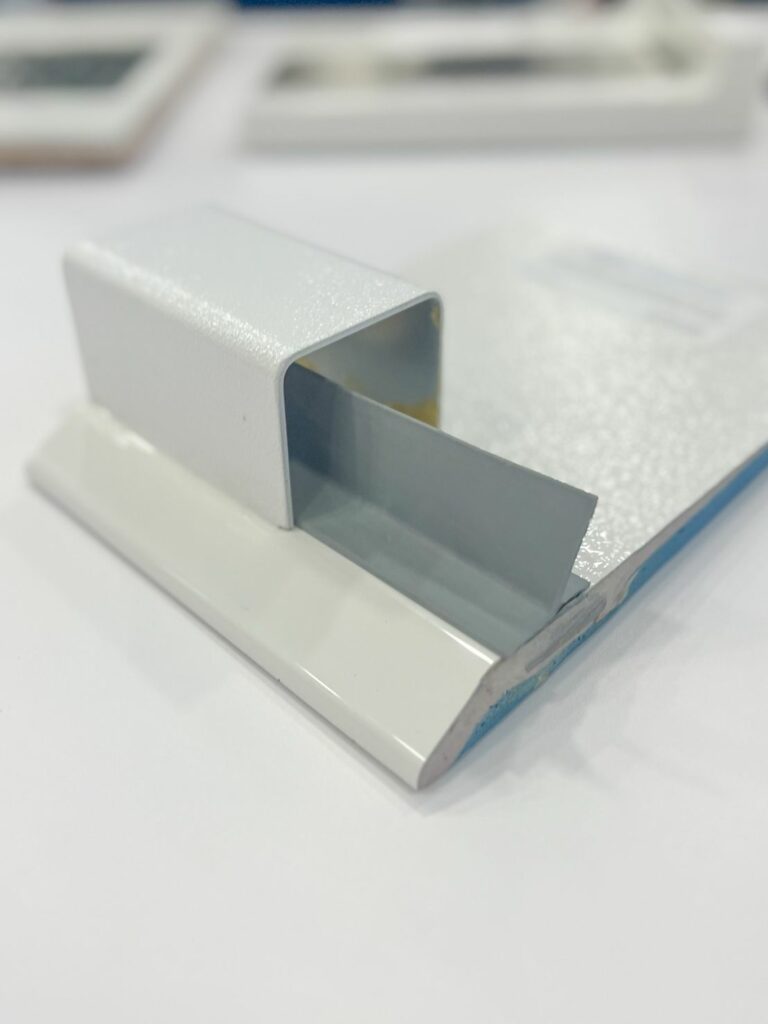 * slip resistant flooring – ESPECIALLY in wet areas such as the bathroom and kitchen. Have you ever googled how many accidents and injuries occur in those two rooms? You will gasp- and that is how many are reported! We can only guess how many aren't reported.
*low rise stairs or ramps – integrated into your landscape
* well placed grab bars including specialty grab bars or safety products that don't even look like grab bars
* higher toilet (once you see for yourself how comfortable they are to use – no matter what your age – you are sold for life)
*Washlet toilet seats – are wonderful for anyone – especially those with arthritis or caring for an older loved one – helping them maintain their dignity.
There is so much that is out there, we can be your tour guides and help guide you to the right solutions for YOU AND YOUR FAMILY. We put together the team to implement the changes for you AND we even know some programs out there that may help you fund these needed changes.
Don't be worried about thinking that these types of renovations will make your home unattractive and decrease your property value. We strive to incorporate well-designed home modifications for accessibility that – as one recent client said, " When people see my new bathroom – the first words I hear are "beautiful – just beautiful".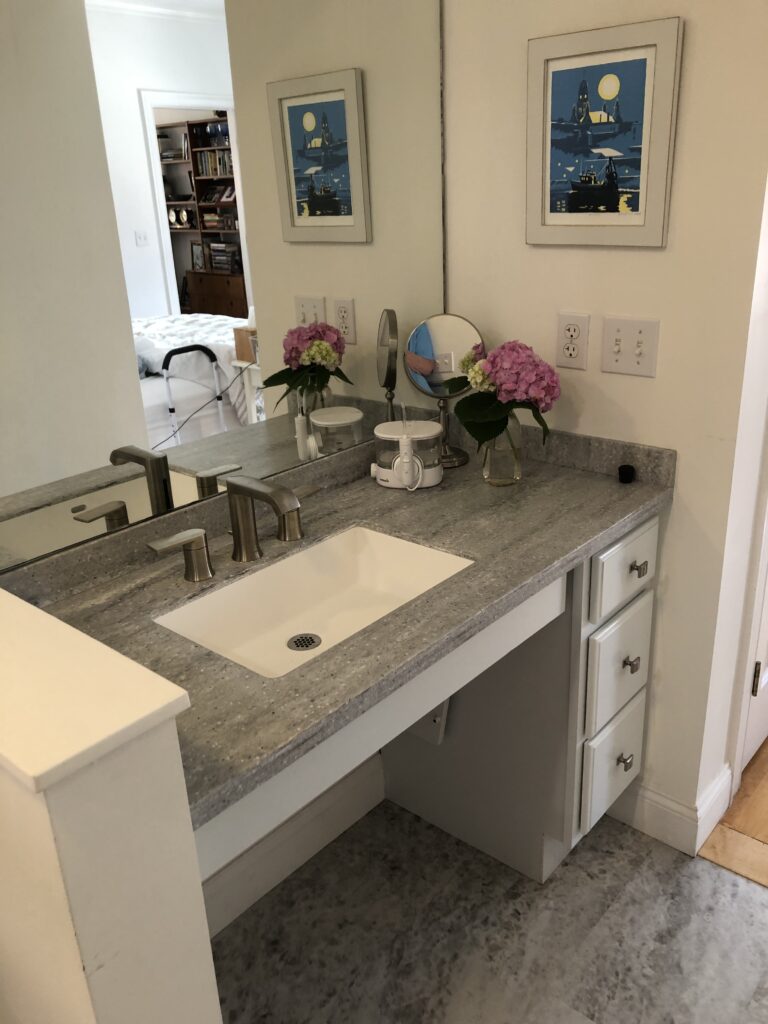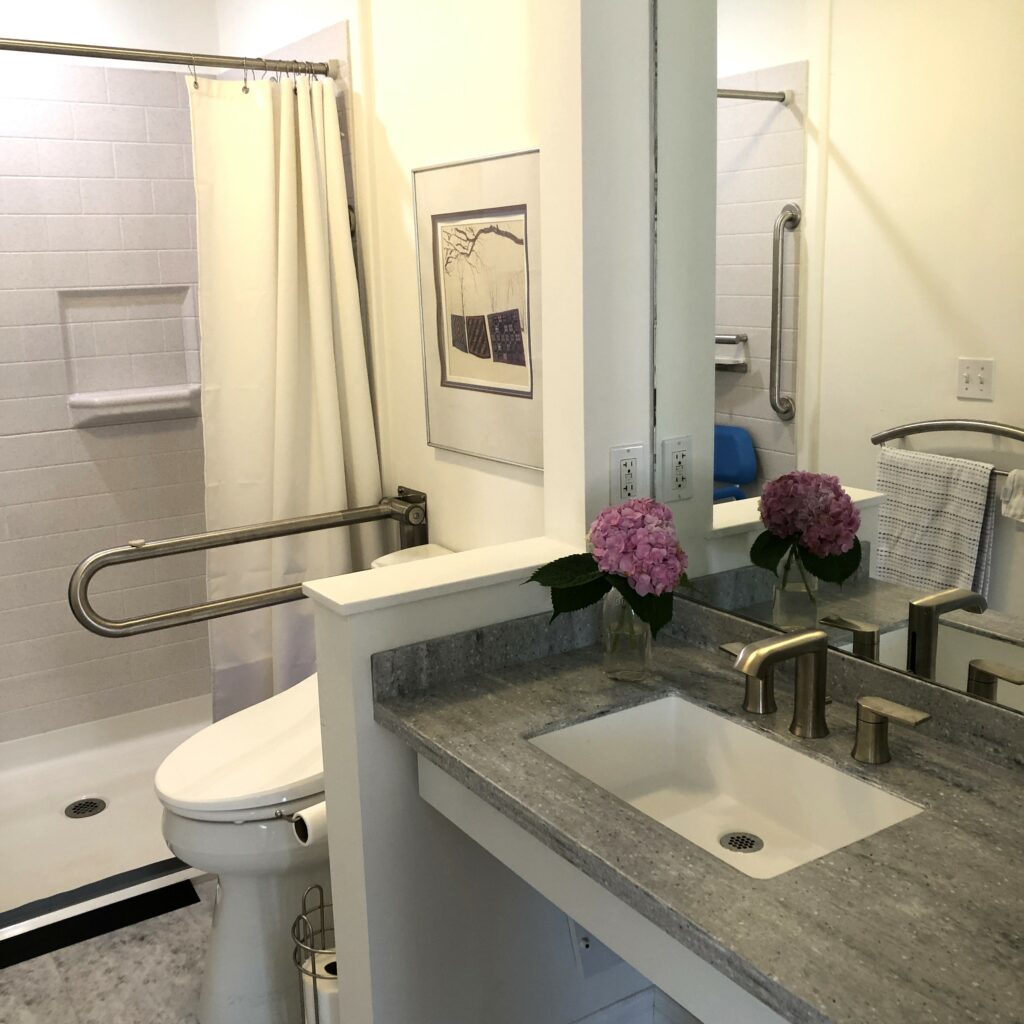 WISE INVESTMENT FOR YOUR FUTURE:
The fact is – the demand for universally designed homes is increasing and will only increase as we go on – we are all getting older. You may be surprised that these changes will likely increase home value – as long as they're done right. That's where we come in. Call Accessible Solutions today!