We recently took a call from a very upset consumer who spent thousands of dollars to renovate her new home to make it accessible. She found a contractor who told her that he knew accessibility and she trusted him. Now she has a bathroom where there is very little turning radius; she does not feel safe in the shower; the grab bar fell out of the wall as there was no blocking; and now she needs more assistance than she needed in the past because the bathroom was so poorly designed. Now she is a very discouraged first time homeowner who needs it done right.
The question thus arises: How do you select the right company and why is that important? Choose someone who KNOWS accessibility. Choose someone with decades of experience. Choose someone who is interested in making YOUR home more accessible for YOU. Choose ACCESSIBLE SOLUTIONS!
Accessible Solutions has been designing and making homes accessible for over 27 years, coupled with over 35 years in the construction industry. We have decades of experience making homes accessible for State and Federal Agencies; We even know the programs that can help you fund your project.
We are "Certified Aging in Place" Specialists (CAPS) and accessibility is ALL we do.
We design your renovations with your specific needs in mind, with products that will adapt to your changing needs. For the BEST results, we are dealers for Bestbath barrier free showers who make The BEST showers on the market with a long record of success. They are fully plywood reinforced fiberglass panels with a gelcoat finish, they look like tile WITHOUT the grout or tile maintenance, and have a 30 YEAR warranty. Want a shower door now – but need it to be accessible down the road – No Problem. Do it right with us the first time and you won't have to do it again.
Need a barrier free shower now but you're concerned about resale – NO PROBLEM! If you do need to sell down the road, you simply silicone their special adapter over your rubber water stopper – you have a curbed Master Shower for the next homeowner which will also adapt to your needs if they ever have a life changing event. These showers can even be upgraded with mosaic glass tile insets or to one of several molten stone colors where it will look like granite. The BEST showers on the market for accessibility, for warranty, for beauty, and adaptability.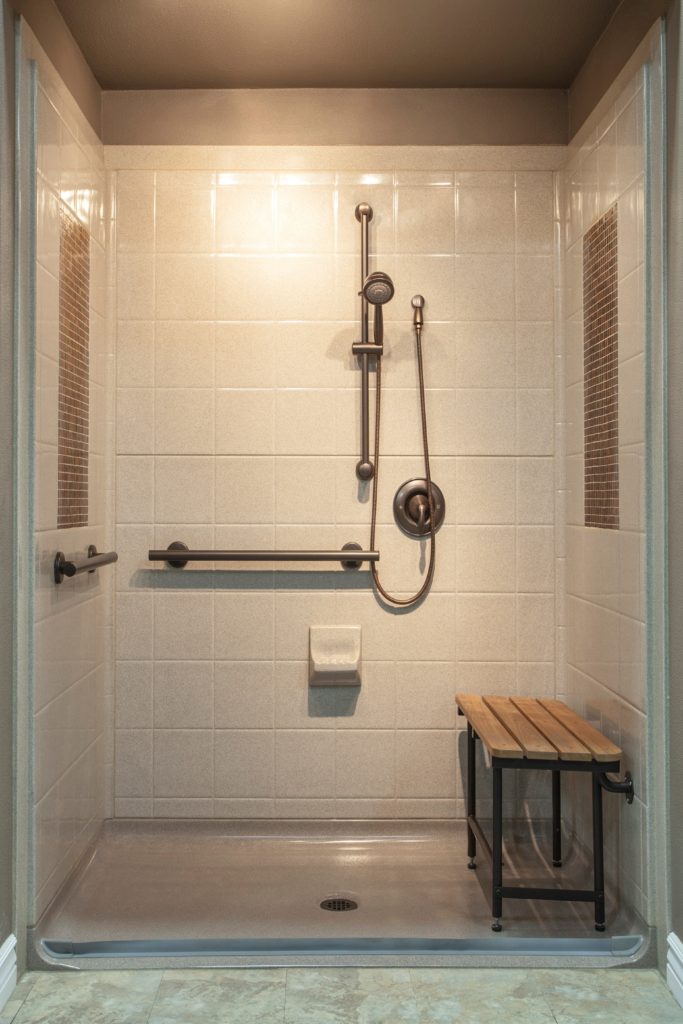 We also team up with some of the BEST building professionals in the trade – once you contact us – you are in good hands to have the job done right the FIRST TIME.
Call Deb at Accessible Solutions today. Whether you need bathroom remodeling for accessibility, for aging in place, for planning ahead – we're your ONE STOP CENTER for ACCESSIBILITY.