Renovating a bathroom with the concept of universal design, or aging in place design, is the most popular handicap accessibility modification for the home. This type of home modification often includes converting step-in tubs to curbless, roll-in showers or walk-in tubs, adding a seat or foldable bench within a walk-in shower, adding a roll-under vanity, and installing grab bars or sturdy handrails in the shower and around the toilet. More advanced modifications include adding non-slip flooring and rotating space for wheelchairs, slightly raising the height of the toilet and adding space beside it for wheelchair access, adding easy-to-reach controls for shades or blinds, and widening hallways and doors with handicap accessible doorways.
Accessible Solutions' product line for bathrooms is extensive, including handicap accessible ADA showers, roll-in showers, heightened toilets, roll-under sinks, grab bars, shower seats, designer bathroom accessories, ADA shower seats, mobile shower chairs, commercial bathroom accessories, easy access transfer tubs and walk-in tubs, barrier-free shower water dams, transfer safety rails, and other handicap bathroom accessories. We specialize in tub to shower conversions, by removing the old tub shower combo and replacing it with a barrier-free ADA shower. We also have a wide variety of handicap ramps for sale.
The Americans with Disabilities Act (ADA) has established minimum requirements for public restrooms and commercial bathrooms. The basic needs of a disabled person using a wheelchair, including their travel paths and the space the wheelchair requires turning around are used as the primary source of design information for setting the minimum standards for accessible ADA restrooms. We generally follow these requirements, even in residential settings. ADA bathroom remodels layout guidelines are designed to protect people with disabilities and ensure that they have appropriate space in restrooms.
In an ADA bathroom remodel, a handicap accessible toilet is designed to accommodate people with many types of physical disabilities. People with reduced mobility or weak legs find them useful, as a higher toilet bowl makes it easier for them to stand up. Additional features to add accessibility include installing grab bars to ease the transfer to and from the toilet seat, and including enough space for a wheelchair, walker, or caregiver if necessary.
You want your ADA bathroom to remodel to go smoothly from start to finish, which is why you can trust the experience of Accessible Solutions to handle your handicap bathroom renovation needs. When we are at your home or commercial property, we'll take extra care not to damage anything during the renovation process.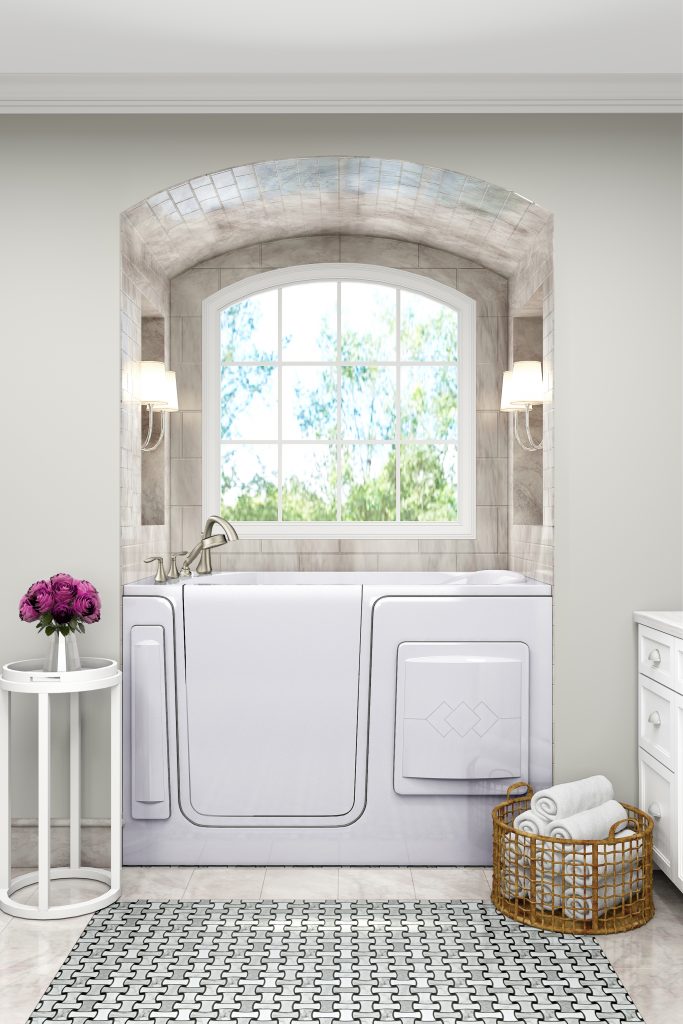 Whether you're looking for a highly accessible replacement for an old high-threshold bathtub or a low-cost alternative walk-in tub, our barrier-free showers are built to maximize long-term safety, comfort, utility, and value. Contractors and architects looking for safe bathing solutions for their home renovations and bathroom remodeling projects come to Accessible Solutions for barrier-free shower solutions. While slippery floors and high-threshold tub walls increase the danger of falling in the bathroom, a barrier-free shower eliminates these issues for a safer and more comfortable bathing experience. A linear drain and fully waterproofed bathroom floor allow a former bathtub to become a barrier-free shower. We carry a number of accessories for handicap accessible showers, including grab bars, seats, and slip-resistant flooring.
For commercial bathrooms, we also carry ADA braille bathroom signs, hand washing signs and baby changing signs for your public restrooms, toilets, and office bathrooms. For commercial wheelchair-accessible ADA toilets, we install two grab bars: one at least 42-inches long on the sidewall, and another with a 36-inch minimum length along the back wall. Accessible toilet stalls are built with a minimum width of 60-inches, and sufficient space to accommodate a wheelchair to either side of the toilet, or in front of it.
You get to choose the tiling finish of your new walk-in shower, which can be toned to the colors already in your bathroom, or we can completely change the colors of your bathroom walls to be what you want them to be. You can choose from a nearly limitless selection of RAL accent colors to create just the right look. These accent colors provide the look and flexibility of porcelain tile without all the hassle, expense or maintenance. Match your existing decor. Celebrate your favorite team. Or just create a look that adds a touch of personalization to your washroom.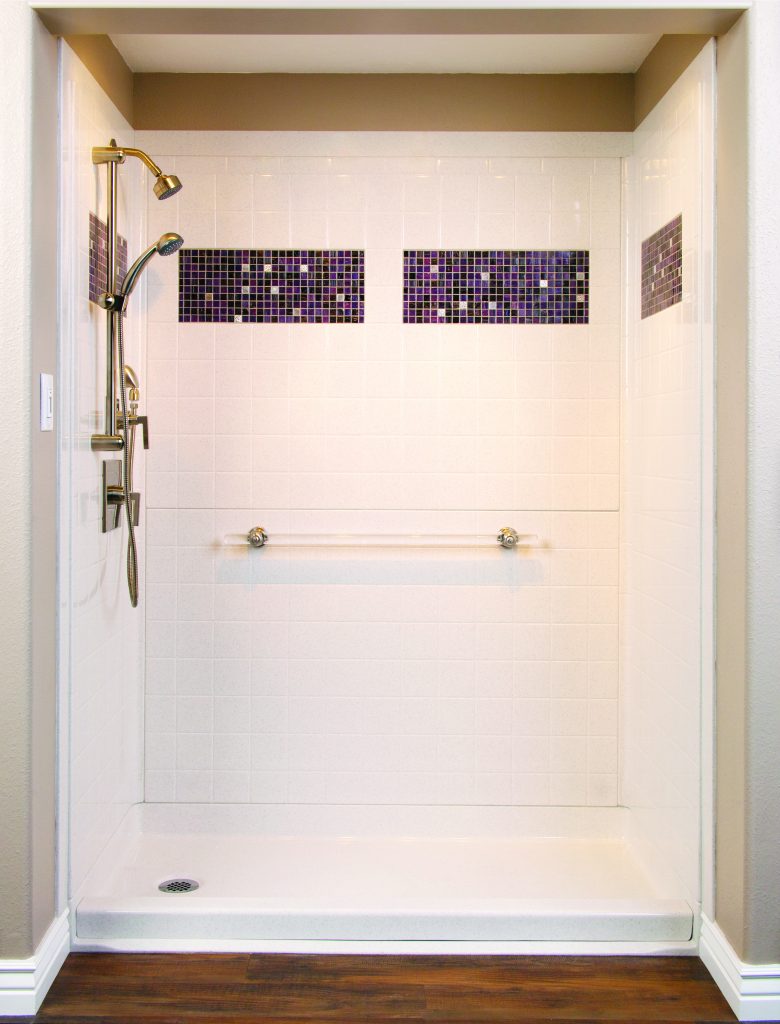 While Accessible Solutions are the wheelchair accessible bathroom renovation experts, we can also provide you with residential wheelchair ramps, including electric wheelchair ramps, power wheelchair ramps, handicap ramps, wheelchair ramps for stairs or mobile wheelchair lifts, scooter ramps including electric scooter ramps, mobility scooter ramps, scooter lifts, walker ramps, portable ramps including portable wheelchair ramps for vans, modular ramps, service stairlifts, residential elevators, lift chairs, stair chairs, and chair lifts. We have many types of wheelchair ramps available, including wood wheelchair ramps for homes, vinyl wheelchair ramps, aluminum handicap ramps, and temporary wheelchair ramps including rubber wheelchair ramps, which are threshold ramps. We have many types of ADA ramps for sale.
Accessible Solutions can direct you to available financing options, including a 0% no payment loan for MA residents that don't get paid back unless you sell your home. Our staff believes that everyone should feel confident while enjoying independent showering, regardless of their age or ability level which is why we carry only the best accessibility products on the market with the best warranty available. As the leader in designing and renovating ADA handicap accessible bathrooms since 1978, call Accessible Solutions toll-free today at (888) 534-9211 to ensure that you and your loved ones will be safe and comfortable within their bath environment.