How can you make bathrooms safer for seniors, and others as well?
That question is being asked more and more these days. In fact, we were recently contacted by Jeanne Huber, journalist at the Washington Post who was preparing an article to help her readers on just that subject. Her research certainly reinforces how important it is as she stated "According to the Centers for Disease Control and Prevention, 1 in 4 Americans 65 and older fall each year. Many of these accidents are in the bathroom".
Our population is more educated today and we have coined the phrase "Aging in Place" to highlight home design and remodeling as we want to stay in our homes as long as we can . Whether we are dealing with just aging, or if we are planning ahead after one of "those" doctor's appointments that only happens to someone else – not us – and we just found out that we or a loved one has a degenerative illness that is going to start robbing us of our mobility.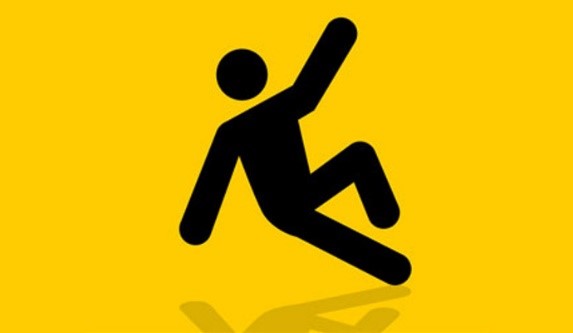 We all try to stay as safe as we can and often we just don't realize the gravity of the situation until we, or a loved one, has a fall with a resulting injury. How many of us have heard of an older neighbor or relative falling and breaking a bone or a hip. The bathroom is the most dangerous room in the house with its wet slippery surfaces – and often wet soapy hands grabbing for something to hold on to. However it was not designed or installed to give support and is not weight bearing; it just doesn't provide the support needed. Injury then follows, and many falls are serious.
There are many alternatives to providing safety in the bathroom. Many homeowners have been concerned about aesthetics which has held them back from investing in accessible bathing products. That is now more a non-issue that ever before with the rise of stylish bathroom accessories which are both stylish and add safety when properly installed. Please don't wait for a fall or injury to happen – especially for those of us who are getting older. There are even more and more programs and tax incentives on the horizon as the experts know what a emotional, physical, and financial hardship just one accident can be. One stay in the hospital. One stint in Rehab with months of PT. Why not look into the options now.
We at Accessible Solutions are trained and experienced. We are CAPS certified – "Certified Aging in Place Specialists". What does that mean?
What Is A Certified Aging In Place Specialist and How Can They Help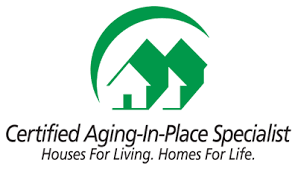 What is a Certified Aging in Place Specialist (CAPS) It is used to identify those that have been trained to help seniors & older adults live in their homes safely as they age. We at Accessible Solutions have specialize in this field for decades. We know the products, we've used the products and know which ones work for our clients. We know what to avoid. We know what designs work, and what bathing solutions have been time tested for hundreds of our clients. Why not make an investment in your future, your safety, your home, in you.
Contact Deb at Accessible Solutions today – we specialize in helping you to "Make Your Home Accessible".
Would you like to see an example? Here is one of our recent transformations?
HERE IS THE BEFORE PHOTO. STANDARD TUB WITH SHOWER CHAIR – NOT REALLY STURDY OR SAFE TO GET IN/OUT OF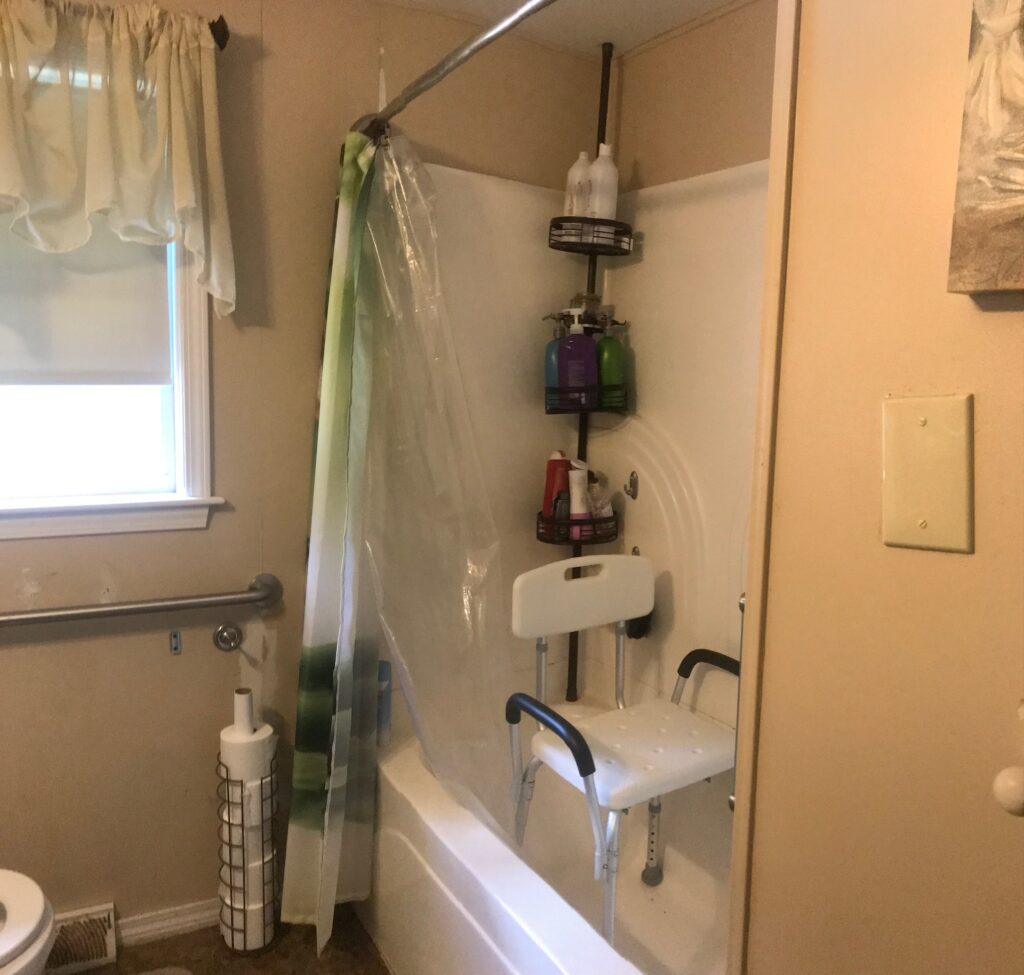 TRANSFORMED OVER TO TO A BEAUTIFUL WALK IN TUB – Wide outswing door for easy transfer – water and air jets for therapy.
Those pretty shelves are not just shelves – they are grab bars! Support up to 400 lbs as the proper blocking is in place.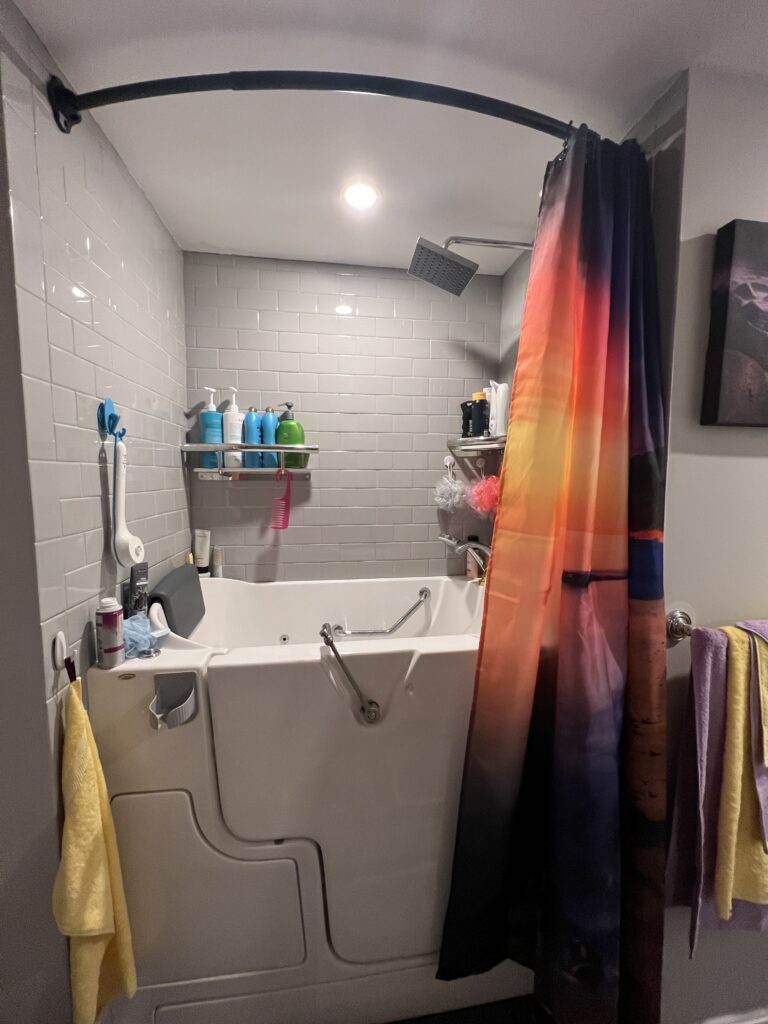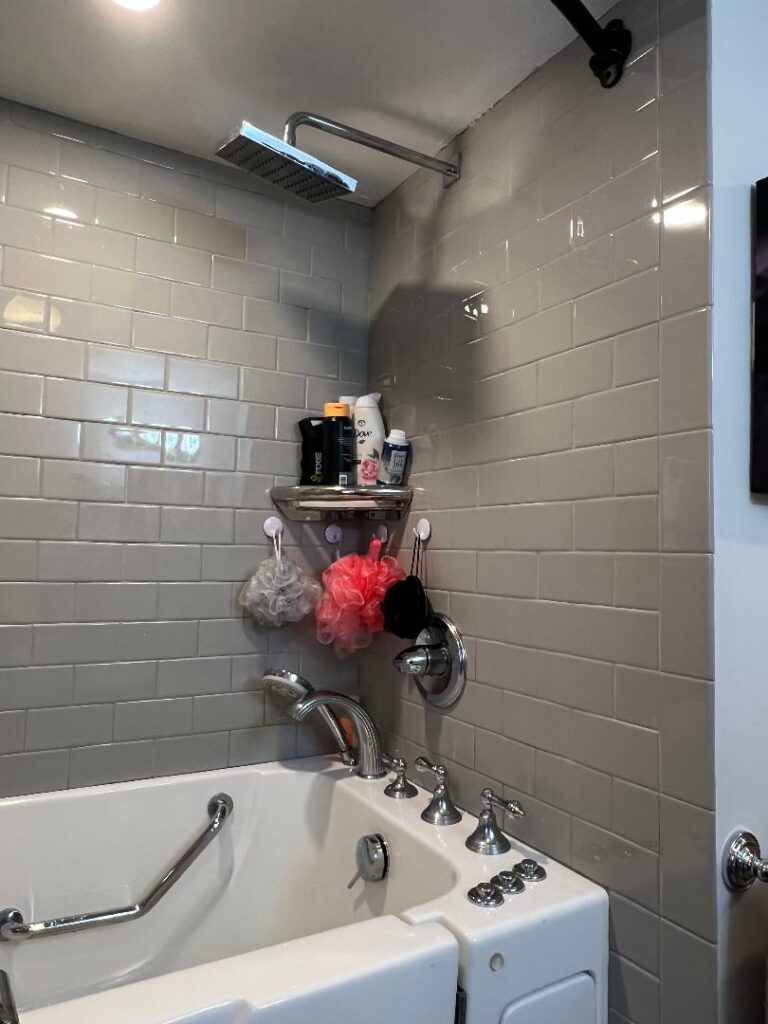 Contact Deb at Accessible Solutions today – let us show you how you can transform your bathroom into a bathroom that is safer, accessible – an investment into your future.
If you would prefer a barrier free shower – one that adapts to your needs as you age and if circumstances change, stay tuned for another recent transformation.
Stay Safe and Happy Bathing!